Shaped by the industrial designer Louis Kalff, the Philips 'pancake' or 'shaving-plate' loudspeaker was available in three diameters. The Model 2003, of 16 inches, was introduced in 1927, price £6 10s 0d. The Model 2015, of 14 inches, price £5 5s 0d, was introduced in 1928, when the larger model became known as the Senior and the smaller as the Junior.
When Philips introduced, in 1929, the Model 2007, of 18 inches, price £7 10s 0d, it was unaccountably marketed as the Peter Pan. This largest model featured a three-position rotary switch in the connecting lead, allowing for alteration in impedance and, hence, tone. The horseshoe magnet, balanced armature and parchment cone of the loudspeaker sit behind the inner Bakelite dish, the outer parabolic bowl acting as a sound reflector.
Whilst the Model 2015 could be had only in maroon Bakelite (what Philips for trademark reasons called Philite) the two larger models could be had in brown, buff, maroon, and marbled colours. This Model 2003 has glorious gold patterning, resulting from the inclusion in the Bakelite mix of brass powder.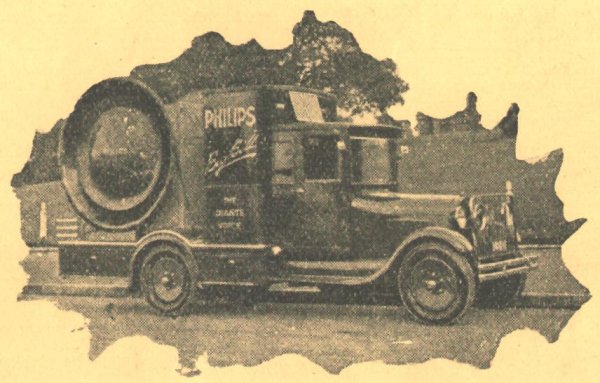 Although without a cabinet, the Model 2003 weighs a hefty seven pounds, partly due to the cast iron foot upon which it stands. The heaviest version though was Philips of Sydney's 1929 promotional Big Bill, a Ford Model A truck made to look like it carried a giant pancake, but actually packing a 500w public address system. Production of pancake loudspeakers continued at Eindhoven until 1930.